Call for Officials: Regional Sessions 2012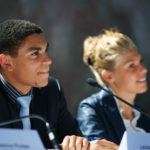 European Youth Parliament Finland will organise its annual Regional Sessions for the fifth time in 2012. The sessions will take place in Tampere, Salo and Kauniainen in October and November 2012, and they will be presided by Alexandre Narayanin (DE/FR), Jan Bubienczyk (FI) and Franziska Maier (DE), respectively. The Regional Sessions act as preliminary round of the 19th National Session of EYP Finland, to be held in Joensuu in January 2013.
Since 2008, the Regional Sessions of EYP Finland have been a gateway to the world of EYP for hundreds of high school students in Finland. They have also gained a solid reputation as high-quality events among the international EYP community, as indicated by the high number of applications for officials' posts in the recent years.
EYP Finland now welcomes you all to apply for another round of Regional Sessions in Finland. The call is open for vice-presidents, editors, chairs and journalists. Each session will host a team of 16 chairs, 8 journalists and one or two editors (with possible editorial assistants or video editors).
How to apply?
Each Regional Session will host an international team of officials – chairs, journalists and organisers. You can apply for multiple sessions and positions. The call for officials is now open and will be closed on 26 August. The application form can be found at the Alumni Portal. Please submit the form to applications@eypfinland.org. Each applicant will be informed of the outcome of the selection by 30 August.
EYP Finland places emphasis on the transparency and fairness of the selection procedure. Reasonable balance of nationalities and levels of experience will be pursued, but the guiding principle will be that of meritocracy. Thus, we encourage all applicants to pay attention to their applications, and the selection panel will also provide all rejected applicants with feedback on their applications.
The participation fee for Finnish officials is 35 EUR. There is no participation fee for foreign officials.