Call for Participants: Journalists' Training 2013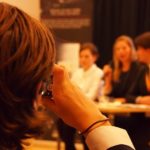 Our annual Journalists' Training will take place from 10th to 12th May in Tampere. The training will gather around 20 participants from all over Europe to learn the basic skills and knowledge required in EYP journalism.
The training is particularly meant for alumni who have recently been delegates and now wish to explore the EYP from a new angle. Thus, in addition to press room practices, the training will also give a broader insight into the role of officials. More practical in formation is provided in the Facebook event.
The application form can be found on the Alumni Platform. We ask you to submit your application to applications(at)eypfinland.org by 17th March.
If you have further questions, you can contact Elisa Anttonen or Hanna Haavisto at firstname.lastname@eypfinland.org.